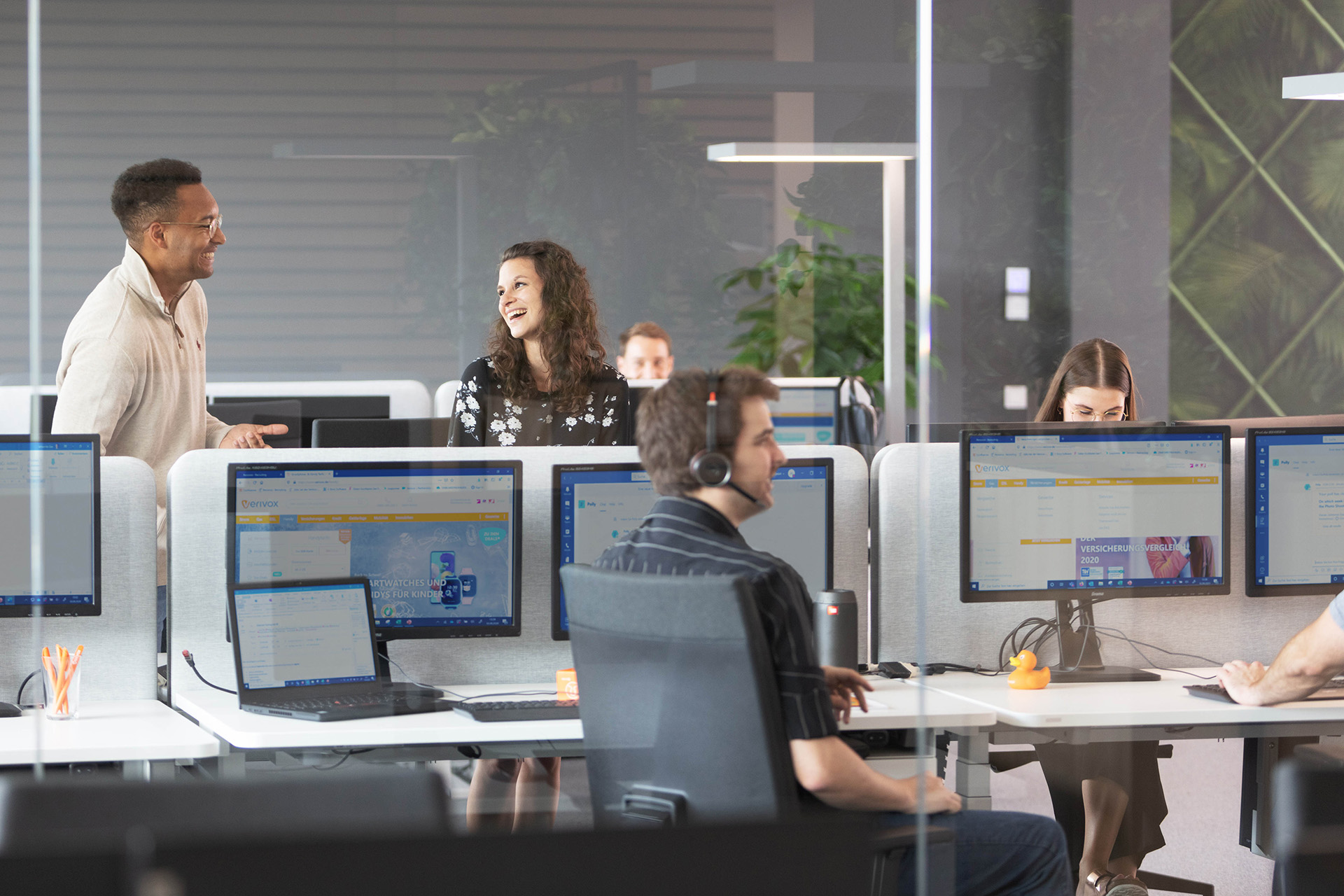 Training and Development Opportunities
We greatly value your development. Our training and development offer is a diverse as our organisation itself – we are sure you'll find the right options for you. On this page, we present our training and development opportunities.
Your training and development opportunities at Verivox
At Verivox, you take centre stage. We value your mindset and determination to set things in motion. To ensure you can actively contribute to our corporate success, we invest in you and the entire Verivox family. Whether you want to visit an international conference, take part in our leadership trainings or find out more about the opportunities the P7S1 Academy has to offer, our trainings are tailored to your development needs.
Training and development opportunities
Employee Development Talks
In our regular development talks, your managers take the time to discuss your perspectives in detail. Of course, training and development is a key part of this. Outside of these talks, you also have the chance to ask your manager, your colleagues and the HR team for feedback and to discuss your development at any time. For us, feedback is not a one-way street – we value yours. That's why we ask our employees regularly about their work day.
P7S1 Academy
As part of the ProSiebenSat.1 Group, our employees benefit from the comprehensive training opportunities of the P7S1 Academy in Unterföhring. The academy offers a wide range of trainings, from project management and leadership trainings to workshops on Design Thinking. Trainings that take place in Unterföhring offer you the chance to network with colleagues from other assets, exchange knowledge and information and thus gain fresh impetus for your work.
Pro 7 Academy
Trainings & Online Learning
Besides the P7S1 Academy, we also offer trainings that are tailored to your specific needs and your role. Our offer includes online marketing trainings, sales trainings as well as SCRUM Product Owner training with subsequent certification. LinkedIn Learning provides access to 15,000 e-learning offers in seven languages and with it, numerous opportunities to adapt your development to your own work rhythm.
Trade Fairs, Conferences & Workshops
To ensure we are always in step with the times, it is vital to take a closer look at current trends and topics and to network with like-minded people – conferences, trade fairs and meet-ups offer the best opportunities. Whether in London, Amsterdam or Moscow, we always aim to expand our horizon.
German Lessons
At Verivox, we have employees from more than 30 different countries – something we are immensely proud of. We offer German lessons to help you break through language barriers and become more integrated into daily life. We cooperate with several providers to ensure you find the right course for your style of learning.
Highly Individual
If you haven't found the option that's right for you among our offers or have a specific training and development requirement, let us know! Your manager is happy to discuss your individual needs. Together, you will develop your own options in line with our corporate and departmental strategies. Our HR team is also there to help you.
Leadership Trainings
We know that our success as a company and the satisfaction of our employees strongly depends on our executives. That's why we offer our leadership personalities trainings that have been developed specifically for Verivox and are in line with our culture. After two theoretical modules, your leadership training is rounded off with a 360° feedback and an individual coaching session that expands on the results of the training. This ensures you are well-prepared and developed for your role as an executive while establishing a uniform understanding of leadership within our organisation.
Do you have any questions on trainings and development opportunities at Verivox?
Valentina Barta
HR-Recruiting